4×4 Exhausts
When Choosing a Exhaust for your 4×4 Consider the Following Info
WHY DO I NEED TO CHANGE MY EXHAUST?
The standard exhaust system is heavily baffled to keep the vehicle very quiet and in turn this also affects the vehicles performance, at Southport Exhaust we can open your vehicles exhaust system up to help in both power gains and at the same time help in fuel savings whilst still maintaining a nice exhaust note.
DOES PIPE SIZE MATTER?
Yes, size does matter and bigger is not always the best. We see it in our store all the time where the customer has read on forums that someone has put a 3" exhaust on they vehicle and they want the same or even bigger, when we find out that it is a 4 cyl i.e. Mitsubishi Triton 2.5L is best fitted with 2.5" (63mm) instead of 3" (75mm) where you lose low down torque and you need that that when four wheel driving.
WHAT IS THE DIFFERENCE BETWEEN BRANDS
Here at Southport Exhaust we can get many brands of exhaust systems for you, here are some to choose from Redback Extreme Duty, Lukey, X-Force, Outlaw, Beaudesert Exhaust and Zetti, We recommend the following.
REDBACK EXTREME DUTY AND LUKEY 4X4 RANGE?
Basically "Extreme Duty" as the name suggests, is a tough & resilient design with a number of features & benefits that we will run through with you. It's Redback's Premium range that carries a 3 year warranty it is made in 3" aluminized steel and is mandrel bent it has four bolt flange plates that are interlock system for less chance of the flanges leaking and added strength and the exhaust hanging brackets go all the way around the pipe to make it stronger than just a bracket welded to the side of the pipe. The Redback standard range is sold under the Lukey 4×4 brand, this range carries a 2 year warranty and is made in both 2.5" and 3" aluminized steel and are mandrel bent. Please call us for full details.
We are happy to supply you direct if you want to fit yourself. Our kits include the gaskets, bolts you will need.
The Extreme Duty systems offer you three options when it comes to note, a large oval muffler, a 5″ Round resonator, & straight out pipes. The large oval muffler variants will comply with current legislation in all Australian states. Please do not hesitate to call to discuss these options.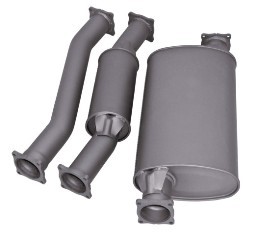 TO WHAT EXTENT WILL I SAVE FUEL?
A free flowing exhaust system will assist your engine to perform better. This in turn should ensure it uses fuel more efficiently. This is very much dependent on your driving style & the conditions at the time.
The vast majority of the systems we offer will give you increased power & torque. However not all makes & models respond the same.