Diesel Tuning Module Chips

What is a Tunit?
The Tunit is an externally installed performance product suitable for all modern diesel engines. Tunit is designed to improve power, torque and efficiency, without compromising fuel economy. The Tunit is able to increase performance, improve fuel economy and reduce emissions due to the computer hardware and firmware within the Tunit. In most cases applications will achieve a 7-10% saving on fuel. It is retrofit and will not interfere with original equipment or the manufacturers warranties. Installation is usually a swift process of less than 30 minutes. Thanks to Tunit, diesel tuning is possible to increase the performance of all modern diesel vehicles by up to 30%.
You may appreciate your diesel vehicle for its fuel economy, but you find it a little lacking in power! Or maybe you just want that bit of extra get up and go. The Tunit has the solution! This innovative and clever device provides a substantial increase in power and torque for the amateur or serious performance user.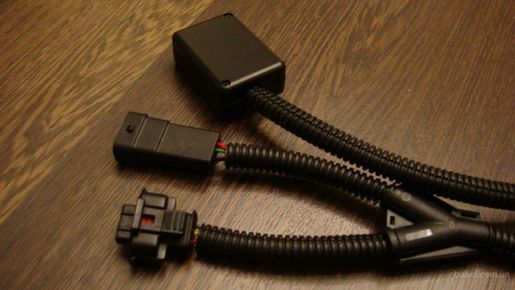 How it Works
All Tunit's are specifically designed to achieve enhanced diesel performance by modifying the fuel injection parameters and only by the careful interplay of these values and characteristics can the optimum performance of your engine be achieved. The turbo boost pressure is not directly altered (on turbo models) by the Tunit and is only increased via the natural increase in exhaust gases provided by the increased performance. The design and development of the Tunit has come about by the collaboration of some of the top minds in Europe and is the latest and most advanced device available on the market today. Our ongoing development programme ensures we keep up to date with the latest engine management and injection systems.
Installation
Every Tunit is designed to be compact and lightweight, the smallest being only 10cm across, the largest being 13.5cm. In most instances the Tunit comes complete with original manufacturers plugs and connections. An original quality harness to fit in-line is also provided. Most Tunit's are fitted in 10-20 minutes and all are designed to be easily installed by people of average mechanical capability. If you prefer, we fit the Tunit for you. Fitting is offered by our workshop. Fitting is usually carried out in less than 20 minutes. If you wish to remove the Tunit for either fitting on another vehicle or for any other reason it is just as easy.
Adjustable Tuning
Manual Adjustment – All Tunits are adjustable in one form or another. This allows the Tunit to be individually matched to each and every characteristically different vehicle. This can be very important as two cars the same may not react and drive the same. i.e. one VW Golf 97 kw may produce 95 kW, the next Golf built on the same day may produce 102 kW. For this reason we have built in simple methods of reaching your optimum performance.
The Tunit V-CR, V-PD and V-VP models come pre set for the vehicle. Each Tunit has a 9 position rotary switch. Each position will provide a different power level. 1 is the lowest, 9 is the highest. The Tunit II, III and IV also have a manual adjustment and require a simple adjustment on installation to the vehicle
What is achieved?
Immediately the increased power and torque can be felt. The throttle response is improved and particularly low and mid range torque is vastly improved, making the overall performance of the vehicle completely different.
When carrying loads and/or towing, the extra power is an also great advantage. The overall drive becomes more pleasurable and the engine in most instances runs smoother.
In independent tests and trials, results of 7-10% extra better fuel economy have been achieved. This obviously varies from vehicle to vehicle and application.
Warranty & Guarantee
The Tunit and its components come with a full 3-year warranty. This is transferable with the customer to another vehicle. The warranty can be transferred to a separate customer by applying to Tunit with the original owners customer details.